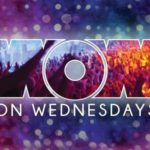 We know how busy you and your family are nowadays, so to make things more convenient for you we got rid of our old-fashioned Sunday school classes on Sunday morning, and started WOW – Worship On Wednesday.
WOW is a wonderful way for you and your family to spend some special time together sharing food, fun, fellowship, and faith formation at a time that better fits your crazy schedule.
WOW starts with a family meal at 5:30 pm followed by a family-friendly contemporary worship service at 6:15, then the children and young people gather for classes and youth group. We wrap up by 7:30. pm. WOW meets Sept. through April.
WOW & Confirmation for 2023-2024!
 Every Wednesday night from September 13, 2023 to April 17, 2024 we're doing WOW and Confirmation Class starting with a meal at 5:30 pm; fun, family-friendly worship from 6:15 – 6:45 pm; followed by classes for K-7th grade until 7:30 pm.
Confirmation Class (8th & 9th graders) meets right after worship at WOW. Confirmation students are required to attend worship at WOW.
2024 CONFIRMATION CELEBRATION


Students who complete Confirmation in 2024 will participate in a special Confirmation Celebration during  worship at 9:00 am on Sunday April 21, 2024. 
This summer we're doing Vacation Bible School like never before!
 Vacation Bible School Program  https://youtu.be/Xy06iKBMKHU
 Vacation Bible School Photos

VBS will be back again in June of 2024. 
Your children will have a wonderful time learning about the love of God and growing in faith with their friends during a fun filled week this summer. Contact the church office or our Youth and Family Ministry leaders for information and to register.
OUR AWESOME YOUTH & FAMILY MINISTRY LEADERS

Tim & Tricia Lambert
Youth & Family Ministry Leaders